Umpqua Bank provides banking products and services to individuals and non-profit organizations. The company is based in Portland, Oregon. It operates as a subsidiary of Umpqua Holding Corporation.
Website: https://www.umpquabank.com/
Routing Number: 123205054
Swift Code: See Details
Telephone Number: (866) 486-7782
Founded: 1953 (70 years ago)
Bank's Rating:
Online banking services offered by Umpqua Bank make it easy for customers to check their transaction history, pay bills, transfer funds between accounts etc. These internet banking services are convenient and customers can bank anytime provided they have internet connection. If you are unsure, we will take you through the process of logging into your online account, resetting your password and enrolling for the internet banking services.
How to login
If you have registered an account with Umpqua Bank, you can login anytime and manage your bank account. Just like other online accounts, you will need your login details to login you're your online account. Follow these simple steps to login:
Step 1-Open https://www.umpquabank.com/  in your web browser
Step 2-Click "login"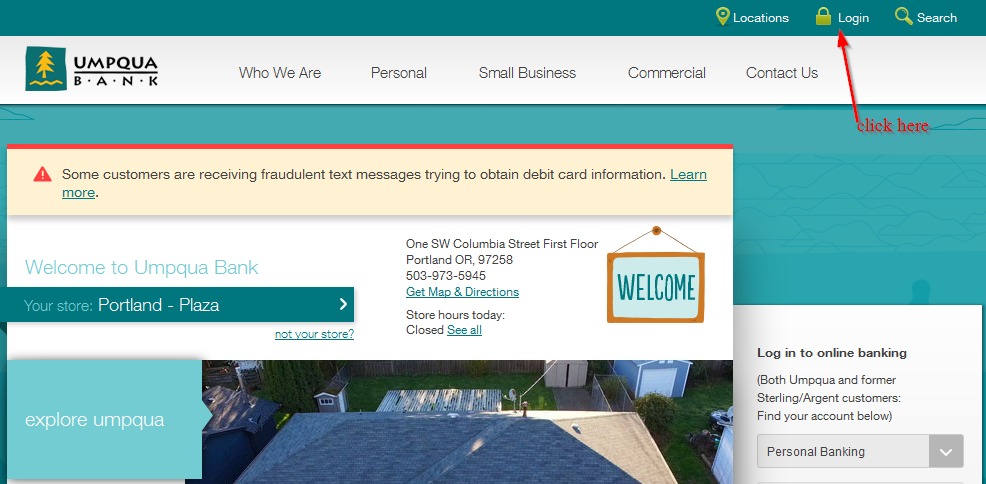 Step 3-Choose your account type. In this case, we will choose personal banking.
Step 4-Enter your login ID and click "go"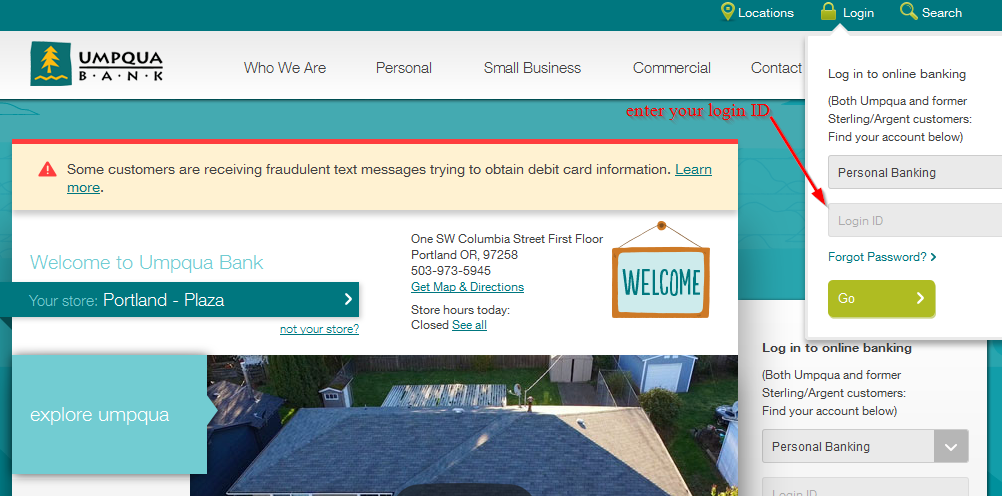 How to reset your password
You can reset your password anytime provide you have a valid user ID. This is an important security check that you must pass through to verify that you have an account with the bank. Here are the steps you need to follow reset your password:
Step 1-Go to the homepage and follow step 2 and 3 shown above
Step 2-Click "forgot password?" as shown in the image below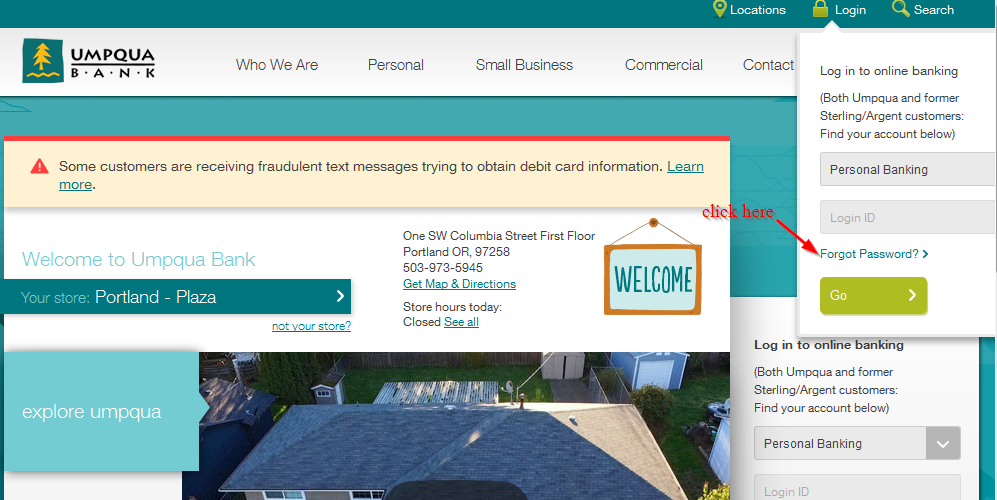 Step 3-Click "click here"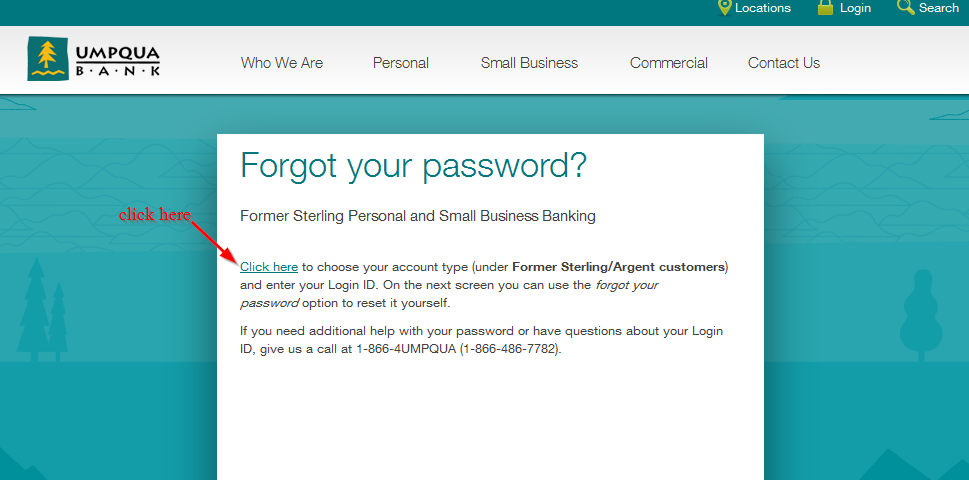 Step 4-Enter your login ID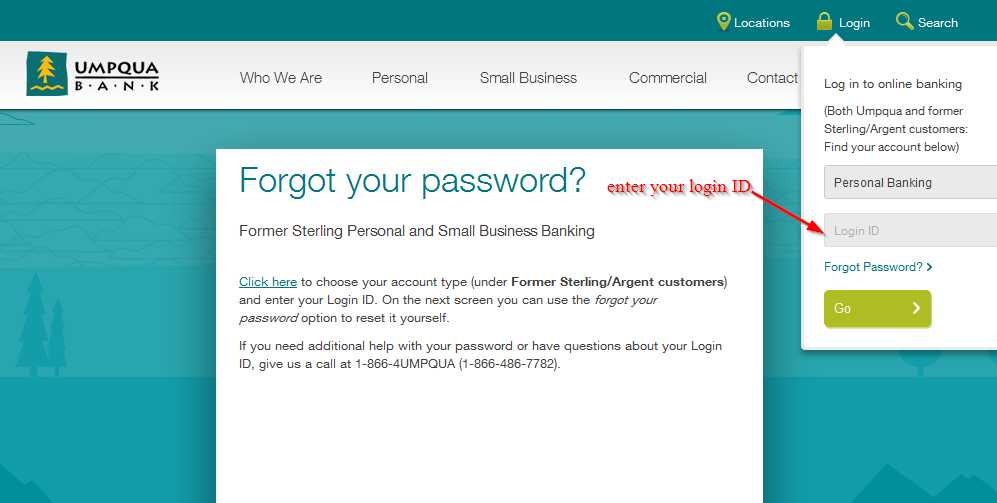 How to enroll
You can register for the internet banking services offered by Umpqua Bank by simply providing a few details. The good news is that the process of enrolling only takes a few minutes. Here are the steps you need to follow to successfully create an online account with the bank:
Step 1-On the homepage, click "sign up for online banking and paperless statement"
Step 2-Depending on the account you have, click "go here." In this case, we will choosepersonal checking.
Step 3-Enter your SSN, account number, account type and date of birth
Manage your Umpqua Bank online account
Here are a few advantages of having an online account with the bank
Pay bills
Transfer funds to other account
Save of print images of posted checks
Save or print your account statements
Umpqua Bank Review
Umpqua Bank is a subsidiary of Umpqua Holding Corporation, a financial holding company headquartered in downtown, Portland, Oregon, United States.
The bank was founded in 1953 and has 394 branches across five states in the U.S., which include Washington, Idaho, Oregon, California and Nevada. Umpqua Bank holds $22 billion in assets.
Although the bank's slogan claims it to be one of the greatest banks in the world, a quick internet search shows a few complaints written by customers who are not happy with the banking services offered.
However, the bank has its own benefits. Are you looking for a good checking account? Or perhaps you want to get your savings offs the ground.
It could also be that you want to get a loan. Well, whatever your banking needs are, there certainly are a few good reason why you will want to build a good relationship with Umpqua Bank.
The bank offers a range of banking services and products, ranging from savings accounts to retirement accounts.
A lot has to be considered when looking for the right bank, and many options to choose from, the selection process can be a little bit tricky. At the end of it all, it's about the products, services and fees
In this post, we have presented a detailed review of the bank so that you can make an informed decision before banking with Umpqua Bank.
Checking accounts
Umpqua Bank has six checking account options; therefore, you shouldn't have problems finding the right account that will meet your financial needs. You can choose from the bank's three interest checking accounts, with interest rates ranging from 0.01% to 0.5% APY.
All the checking accounts with the bank feature online banking, bill pay, debit card, direct deposit and unlimited check writing. The bank charges a monthly service fee that ranges from $0 to $20.
Savings account
Keeping your money in a shoebox or under the mattress will slow down your savings plan.
There are of course better ways for you to save money, and when you choose this bank, there are six savings options to choose from: fixed-rate CD, personal savings accounts, T-series money market, minor savings account, health savings account.
The minimum opening deposits for this account ranges from $1 to $5,000 and customers are required monthly service charges of between $0 and $20.
Mortgage loans
Umpqua Bank prides itself in providing customers with a range of home loan solutions. The bank's home loan options include conventional mortgages, jumbo loans, construction loans, first-time homebuyer loans and FHA loans.
There are also a number of solutions for those who want to take advantage of home equity line or credit or home equity loan. You can use the equity in your home to make improvements, vacation, and debt consolidation or for any other purpose.
Loan products
The bank also provider car loans financing for new and used cars with terms up to 6 years. RV and boat financing is available with terms that range from 72 to 120 months. In addition, Umpqua Bank features four different loan options and 3 credit card options.
Benefits
For most part, many clients had nothing other than good things to say about the bank. The bank had been termed as a comfy local bank and customers reviews have stated that the Umpqua Bank's high level of customer support and its quick response in handling issues.
The bank's branches serve its customers with coffee and cookies in the lobby, something that helped the bank to score highly with customers. In addition, the kid's table in the lobby is just amazing for customers who have children.
Downsides
As far as negative feedback is concerned, some customers have reported issues with hours. According to customer complaints, some branches don't open unto 10am during weekdays. This creates a problem for clients who want to take care of their banking matters before going to work.
In addition, the bank has locations in only four states: Nevada, Washington, California and Oregon. However, despite the limited location, the bank offers online services to customers who live outside these states.
Conclusion
Customers who are considering banking with Umpqua Bank should make sure that they do their due diligence by studying carefully the information that is available on the bank's website. These reviews should also help you to make a decision.