Summit Credit Union is a credit union based in Madison, Wisconsin. It has 35 branches and a total of $2 billion in assets under management. It is regulated by the National Credit Union Administration (NCUA). Its NCUA charter number is 67190.
Website: https://www.summitcreditunion.com
Routing Number: 275979034
Swift Code: See Details
Telephone Number: (800) 236-5560
Founded: 1935 (88 years ago)
Bank's Rating:
Summit Credit Union is a credit union founded in 1935 and headquartered in Madison, Wisconsin. The Credit Union has 35 branches. Customers can also receive their services through its online banking platforms which includes its website and android and iOS mobile applications.
HOW TO LOGIN
Step 1. To login to Summit Credit Union online portal, you need to first visit its website at www.summitcreditunion.com.
Step 2. In the website's homepage, you should enter your bank ID in the space shown below and login. Please ensure to put your account accurately.
Step 3. The above step will take you to the next page. In this page, you should enter your password. Please ensure to keep your password in a safe place. After entering your password, this will take you to your online account page.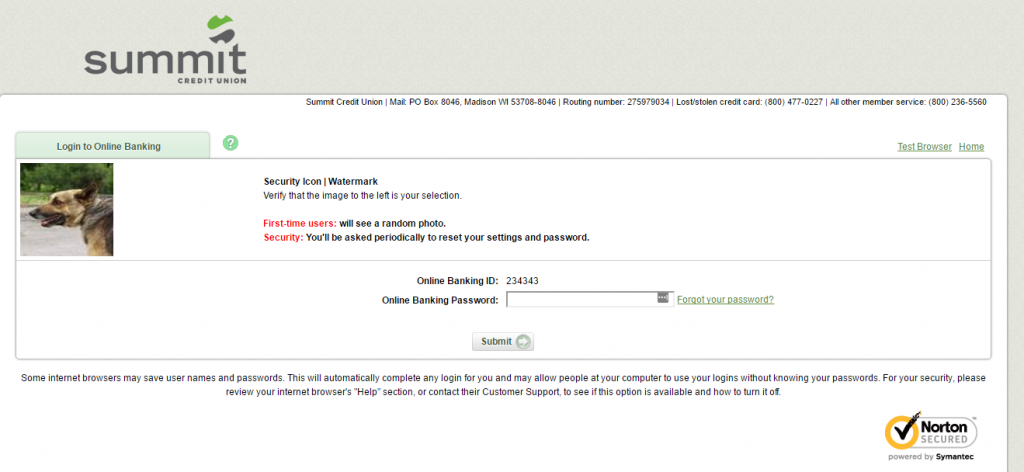 HOW TO RECOVER PASSWORD
Step 1. To recover the password, you should follow the steps listed above.
Step 2. In the password stage, you should now click Forgot password link as shown below.

Step 3. This will take you to the next page where you should enter your Online ID, email address, and email subject line.
Step 4. To know what the Email subject line is, you should click the Whats this link which will result in the following page.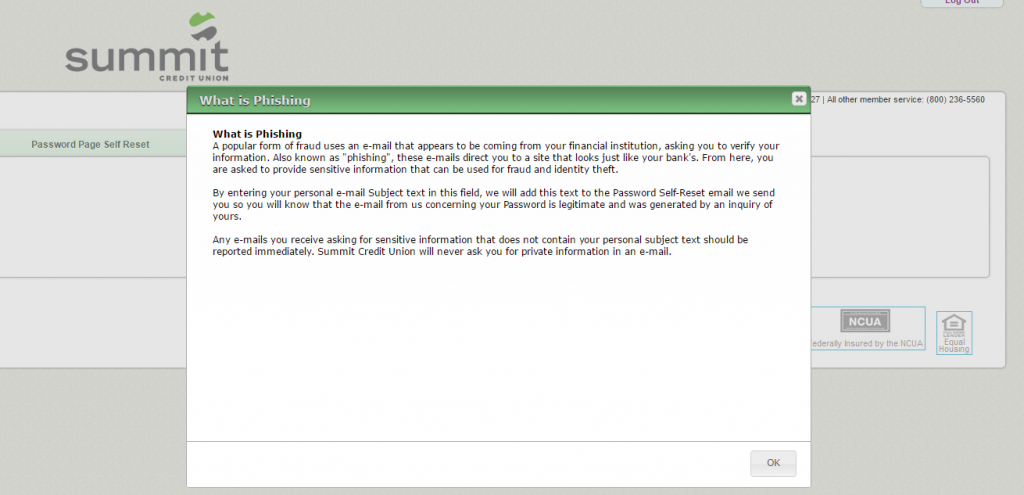 HOW TO ENROLL TO ONLINE BANKING
Step 1. To enroll for online banking, you should go to the bank's homepage as shown below.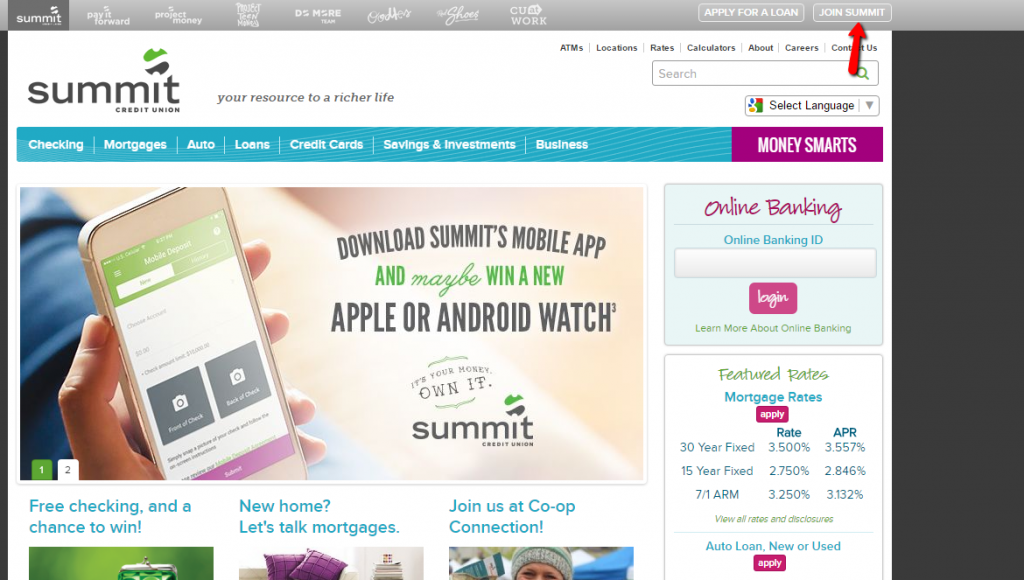 Step 2. This will take you to the next page where you should click Enroll for Online Banking as shown below.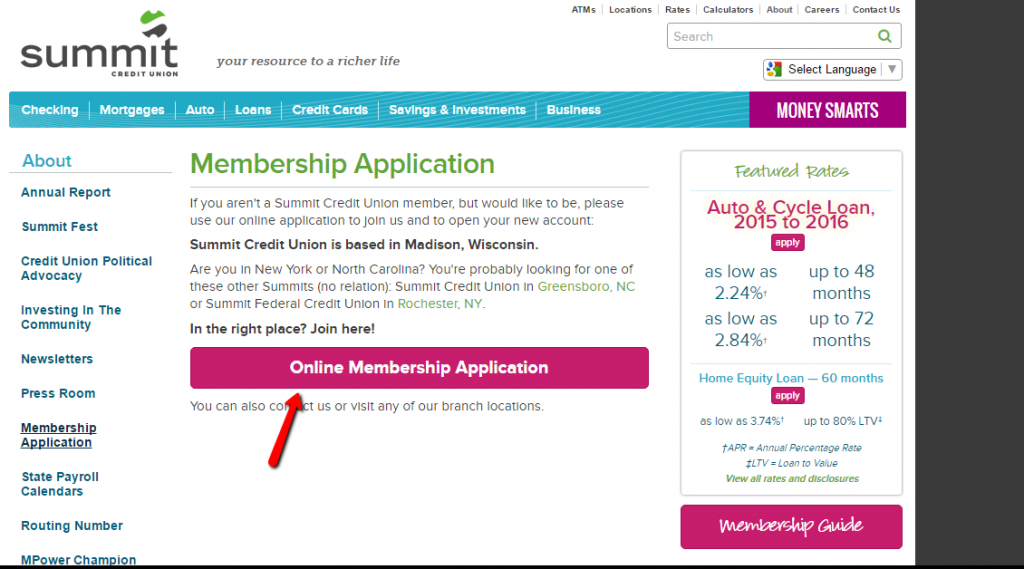 Step 3. This will take you to the disclosure form shown below. Please ensure that you read the details very carefully.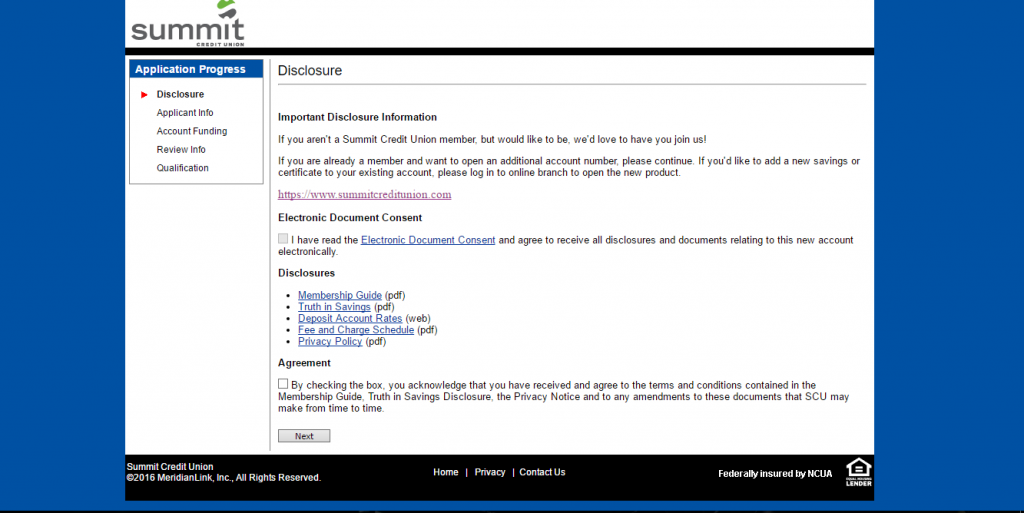 Step 4. The next pages will ask the following information: Your account information, Account Funding, and a chance to review your information. After following the steps, you will now have your online account.
WHAT YOU WILL FIND IN THE ONLINE ACCOUNT
The online account provides you an easy method of accessing your account without going to your bank branch. Some of the services to find there include:
You can view transaction history
Transfer money between accounts
Find the closest Summit branch or ATM
Check your account statement
Summit Credit Union Review
Summit Credit Union was founded in 1935 and is headquartered in Madison, Wisconsin. The credit union had 34 locations as of 2015 throughout out Wisconsin.
Summit Credit Union currently has over 153,000 members and assets worth $2 billion, making it one of the largest credit unions based in the stated o Wisconsin.
The credit union is regulated by NCUA (National Credit Union Administration) as a federally insured state chartered credit union. Summit Credit Union was chartered officially in 1935 and assigned charter number 67190.
Summit Credit Union offers traditional savings and checking accounts, credit cards and loan options. Its members also get to take advantage of the educational resources as well as one-on-one coaching from the financial experts.
Benefits
In our Summit Credit Union review, we have discovered that there are a number of benefits that are offered that customers can take advantage of. Since Summit Credit Union has been in service for a long time, the benefits of being a member are many.
Aside from being a traditional brick and mortar credit union, they also offer internet banking services. Continue reading this guide for more points about the benefits:
A significant number of credit unions offer limited enrollment. This means that for anyone to become a member, they must meet certain eligibility requirements.
On the other hand, Summit Credit Union has not set limitation regarding who can and who cannot become member of the credit union. The credit union's open enrollment policy makes it easy for all people to take advantage of the financial services offered by the credit union.
One of the most beautiful things about Summit Credit Union is that they don't require members to pay annual fee for their checking and savings accounts and credit cards.
This can save customers a lot of money each year considering the fact that most credit unions usually charge their customers an annual fee
The credit union offers APRs that range from 9.99% to 11.9%. These rates are competitive when you compare them to those that are offered by other companies in the industry.
This is what you want in a credit union considering the fact that you have chosen a credit union instead of a bank.
One-login for all accounts
Another benefit that you will enjoy when you become a member of this credit union is that you will have one-login for all accounts-whether it is checking, savings accounts or credit cards.
This makes it easier to manage all your account even when you are on the go
Transfer money between accounts easily
Through internet banking, the Summit Credit Union has made it easy for customers to transfer money from one account to another within the credit union
Another thing is that the credit union's website has a user-friendly interface and they also provide mobile apps that can be accessed on both Android and Apple devices.
In addition, customers can make deposits using the mobile apps. This is convenient considering the fact that many people gave mobile phones today
The company has improved customer support by taking in online. They ensure that they respond to every query through the relevant channels availed online
Downsides
We have discovered some drawbacks about this credit Union that we believe you should know. Before you become a member, you must be familiar with these drawbacks:
The credit union offers only two credit cards for the members to choose from-Visa Platinum Rewards card and Visa Platinum card.
These cards are similar, which means that the credit union's customers don't have many options when it comes choosing a credit card that meets their individual needs.
Some providers for credit cards offer their customer free credit score tracking so that that can stay on top of their credit as well as look for areas that they can improve. It is however unfortunate that Summit Credit Union doesn't offer this particular service to its members.
Conclusion
Summit Credit Union offers competitive APRs, no annual fees and open enrollment. Although it has its own downsides, it is generally a good credit union for people who live in Wisconsin. They have many benefits that you will enjoy for being a member.
---