Renasant Bank was established in 1904. It now has more than $8 billion of assets and a presence in a number of states. It has more than 175 finance services.
Website: https://www.renasantbank.com
Routing Number: 061121203
Swift Code: RNSTUS42
Telephone Number: 1.800.680.1601
Founded: 1904 (119 years ago)
Bank's Rating:
Renasant Bank is a major bank with assets valued at more than $8.3 billion. Its highly advanced internet banking platform helps clients get banking services at a go. There are different categories of its online banking platform which include: personal accounts, basic business, enhanced business, and other accounts.
HOW TO LOGIN
To log on to Renasant bank account, follow the steps below.
Step 1. Visit Renasant's website at www.renasantbank.com
Step 2. In the homepage, click Login as shown below.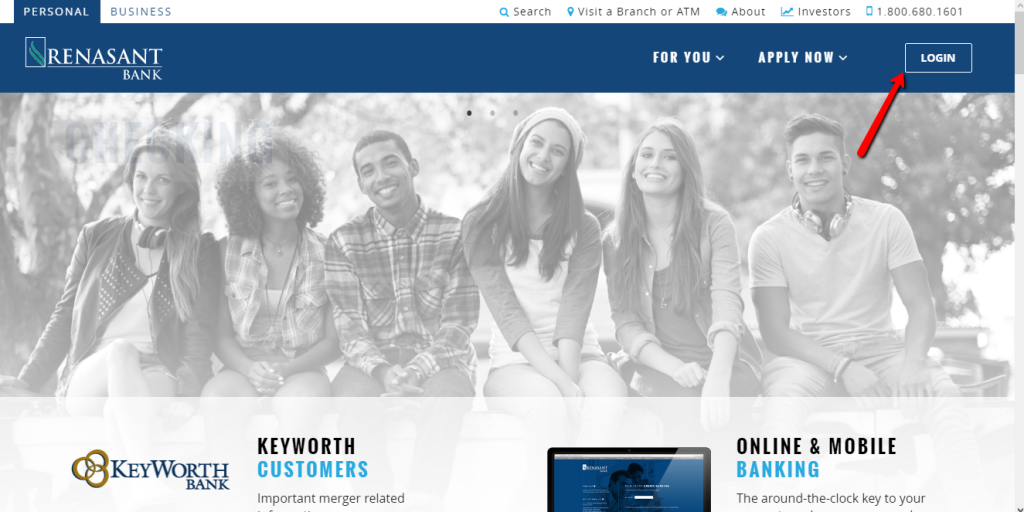 Step 3. In the page that comes up, select your account type as shown below.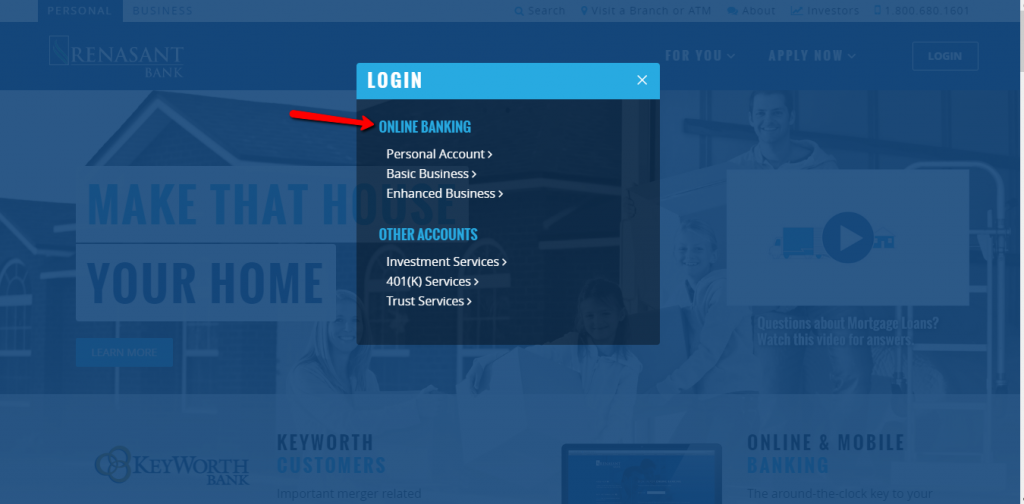 Step 4. In the next stage, enter your user ID as shown below.
Step 5. The next page will ask you for a one time security key. Please select the option shown below.
Step 6. You will receive a code in your mobile phone. Ensure that you have your phone ready with you. After confirming the code, you will be able to log on to your account.
HOW TO GET YOUR PASSWORD IF YOU FORGOT
If you have forgotten your password, you should follow the log on steps mentioned above. After receiving the security code through SMS or call, you will be required to enter the password. In this case, you should click on the forgotten password and follow the steps.
HOW TO ENROLL
Step 1. To create an online account, you should go to Renasant bank's website and click online banking similar in the steps shown above.
Step 2. In the next page, click Sign Up as shown below.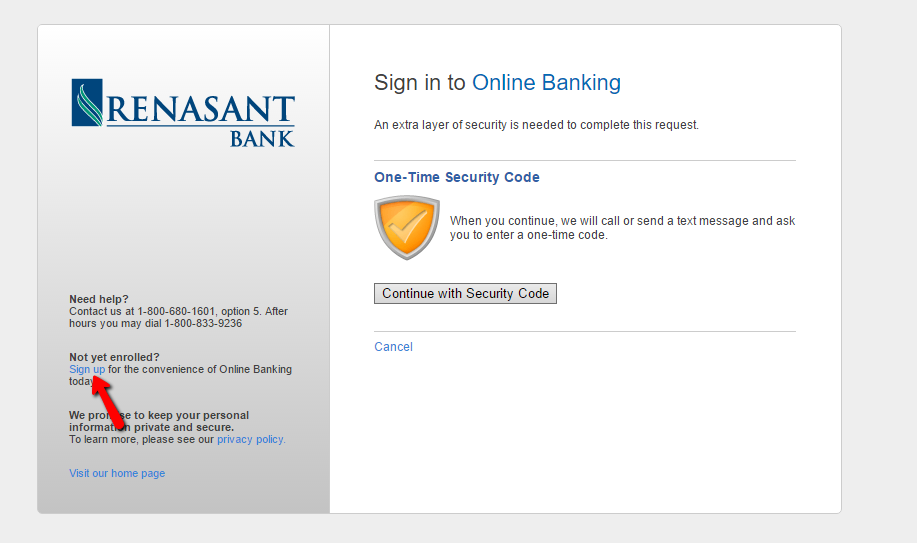 Step 3. The sign up option will lead to the next page.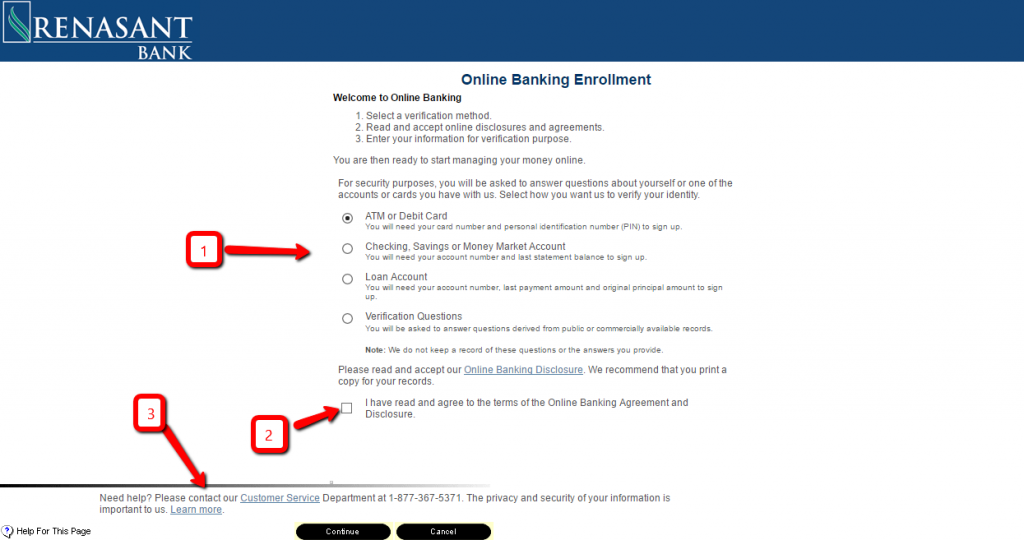 Step 4. First, select your account verification option from the four options provided. (Option 1)
Step 5. In the next option, accept the terms and conditions. I recommend that you first read the terms you are accepting.
Step 6. In case you develop any issue, follow the option 3 to contact the support.
Step 7. Continue and enter the required information for verification purposes. Ensure you enter the correct information.
WHAT YOU WILL FIND IN ONLINE ACCOUNT
In the online account, you will find a number of services such as: checking the account balance, depositing money, your statement, paying bills, and sending money.
Renasant Bank Review
We are all familiar with national banks that have stretched across the United States. Although most of the time we assume that banking with big banks is the way to go, that is usually not the case sometimes.
During the financial recession that happened recently, so much pressure was put on smaller, regional banks. All banks saw their stock price reducing significantly during this period.
Renasant Bank was founded over 100 years ago in Mississippi. Over the period that the bank has been in service, it has continued to grow and expand. Today, the bank has more than 175 locations across the Southeast.
The bank operates in the following states: Mississippi, Florida, Alabama, Georgia and Tennessee. The full service bank offers its customers savings and checking account to wealth management services and loans.
In this Renasant Bank review, we will illustrate many benefits that you will receive from this bank.
Benefits
Smartphones have become popular these days and many people are finding mobile banking a more convenient way of banking.
Many banks have an app that allows customers to access their banking services. Smartphones have made it possible to make mobile deposits. After the introduction of mobile deposits, many banks charged customers for the service and in fact, some still do.
But with Renasant Bank, making mobile deposits are completely free and deposits that are made before 6:00 PM are usually posted the next day in your account. This could become one of the most popular banking services of today.
Although we are living in a century where cash has become less of a necessity every day, there are still many places that the green money will be preferred to the plastic. With the main reason being that businesses don't need to worry about the processing fees for credit cards.
The fact that all-cash places still exist; there is still a need for it is still out there. Although you can often withdraw money from your bank's branch or grocery store for free, it is usually not usually the most convenient.
Most small banks will reimburse these fees because of lack of local and national presence and this bank is no different. There is nothing as reassuring as knowing that when you are in a crunch and need money as soon as possible, you won't have to pay the sometimes $10 fee.
Some people are inclined towards supporting the community they live in. They feel that they have a personal obligation to play a role in their local economy. This applies to small business, grocery stores and banks as well.
Banking with a smaller, regional bank gives you the chance to build a personal connection with the bank. Therefore, they will work many times with you on a number of things such as loans that larger banks won't sometimes.
The bank also has 110 branch locations in 4 states where it operates. This is higher when compared to many banks
The bank charges a lower fee when compared to its competitors. This makes the bank consumer-friendly and customers can easily manage their finances
Although Renasant is a small financial services company, it provides a wide range of financial services
Downsides
Renasant Bank has its own downsides which you should know before banking with the bank. The downsides include:
Although Renasant Bank offers online transaction features, it is a requirement that the system has to be updated in order to meet customer expectations
Those who interested in long term Certificate of deposits can for the sixty-month term where they will receive a 0.9% APY which is too low
Short term CDs' have very low interest rate. The bank offers a six-month CD with an APY of 0.15% which is lower than the average rate
Conclusion
Although Renasant Bank offers a number of banking service, the interest rates are very low. However, customers can choose the interest-bearing checking account although the returns are somehow low.
The main advantage of opening an account with Renasant Bank is that customers need an initial deposit of $50 and customers who maintain a minimum balance of $500 will not pay the maintenance fee.