Established in 2007, Pioneer Bank has made banking services available to the local community. The Texas-based financial institution has brought modern banking ways to help improve service to its customers. With the online platform, mobile and self-service banking has been made possible.
Website: https://pioneer.bank/
Routing Number: 114994109
Swift Code: See Details
Telephone Number: 1-844-746-2265
Founded: 2007 (16 years ago)
Bank's Rating:
Pioneer Bank offers banking services for individuals and businesses. With their goal of making credit available, it has a mobile and internet banking option. You can register for online banking services and manage your account with ease. The Pioneer Bank has the needs of its customers in mind. It is a local bank and thus can be trusted to provide services the locals or community needs.
How to log in
An online account will offer a platform on which you can do almost anything from where you are. It is convenient and thus saves time and effort when you want to manage your account. You can use the following process to get there:
Step 1: Paste the link https://pioneer.bank/ in your browser and go.
Step 2: Type in your username, password and then submit
How to change your account password
The thought of losing a password and unable to access your account can be frustrating. It happens to most people especially those who are new to the service. Luckily, you can use the following steps to get a new password:
Step 1: Click the Forgot password button as shown below.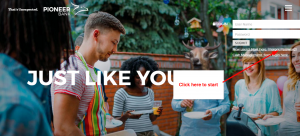 Step 2: Choose the Forgot Username or password section
Step 3: Select forgot or reset password option and submit.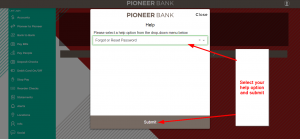 Step 4: Choose customer type and verify. For our case, select personal.
Step 5: Enter your account details and verify to complete the password reset process.
How to enroll
Clients of Pioneer Bank can enroll for internet banking. It offers reliable online banking services. The process is safe and secure and every Pioneer Bank customer can register to enjoy the services.
Step 1: Click the New users? Start here line.
Step 2: Select New Registration.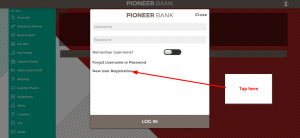 Step 3: Accept the terms.
Step 4: Select the account type and verify.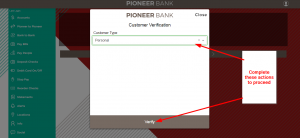 Step 5: Verify your account details and proceed to enroll for internet banking.
How to manage your Pioneer Bank
Managing your account from your comfort can be stress-free. You only need your login details to access your account from any browser. It allows you to:
Access your account via the internet.
Check your balance and download your bank statements
Check the status of your loan.
Pay bills online.