Peoples United Bank provides business and retail banking services and wealth management services. Founded in 1842 and is headquartered in Bridgeport, Connecticut, the bank operates as a subsidiary of People's United Financial Inc.
Website: https://www.peoples.com/
Routing Number: 221172186
Swift Code: See Details
Telephone Number: +1 800-894-0300
Founded: 1842 (181 years ago)
Bank's Rating:
The Peoples United Bank, one of the most trusted banks in the United States, allows its customers to manage their bank accounts online through its online banking services. The bank's website is designed to give customer the safety and security they need to access their bank account. Continue reading to learn more about the online services.
How to login
After signing up, you can login to your online account anytime. The process of logging in requires that you have you login details. And if you have a smartphone, you can download an app. Here are steps to follow to login:
Step 1-Open https://www.peoples.com/portal/site/peoples/ in your PC or mobile web browser, or click the link
Step 2-Enter your user ID and click "login"
Step 3-Enter your password
To access the password page, you will need to use a valid user ID
Forgot your password?
The bank's system won't grant you access to your password page if you have not used the correct user ID. This is an important security check that the bank has placed in position to protect its customers and to make the platform safer and secure.
Once the user ID has been recognized by the system, you can click the password resetting link and change your password.
Unfortunately, we couldn't get screenshots for changing your password.
How to enroll
The Peoples United Bank has an easy to enroll process and if you have reliable internet connection, it wouldn't take you long to set up an online account. But, you must be a customer with the bank. The steps you need to follow have been highlighted here:
Step 1– click "enroll" on the homepage
Step 2– Choose the account you want to open and check the small box to confirm you agree to the terms of use and click "continue"
Step 3-Enter the details that are required in the page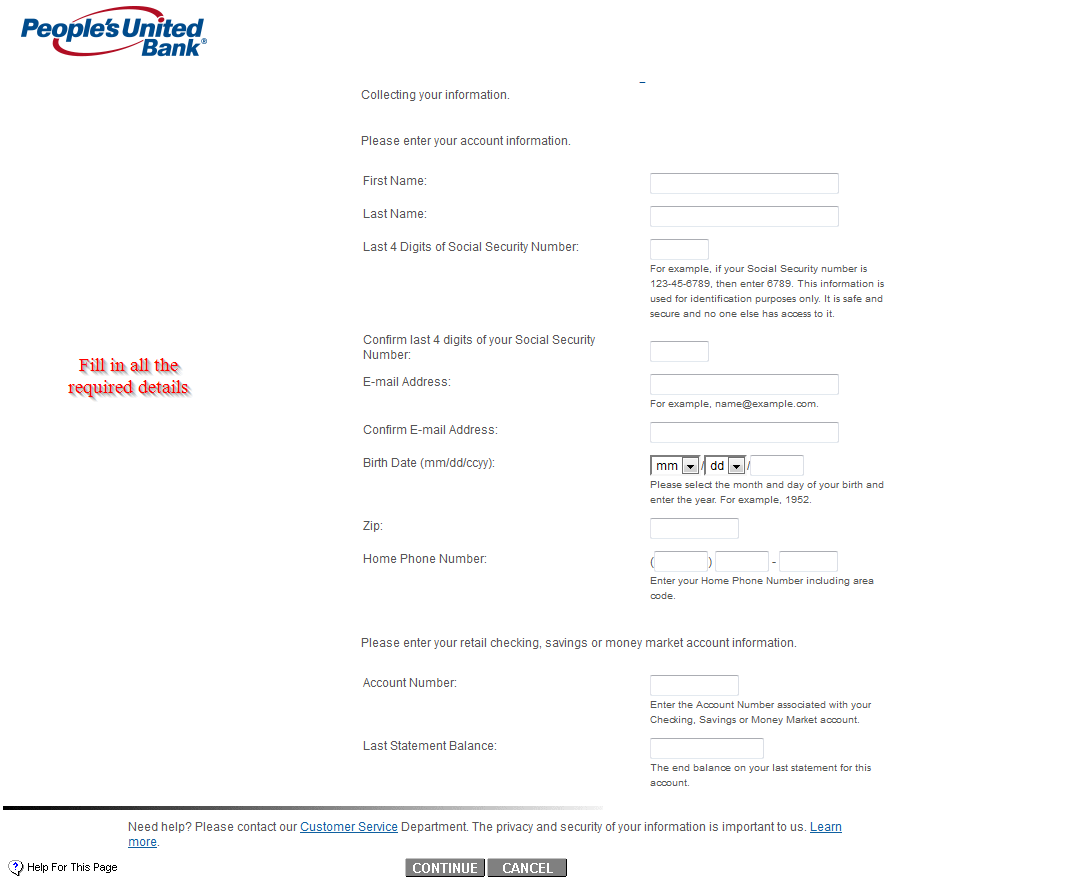 Manage your Peoples United Bank
When you enroll for the online services, you will be in a better position to manage your bank account. You will be able to do this:
View your balance
Access helpful information
Find the nearest branch or ATM
Check loan rates