Founded in 1973, East West Bank is a bank that initially targeted Chinese-Americans. Its assets are currently estimated to be $33 Billion with a market capitalization over $5.2 billion. It ranks among the top banks in the US making it a credible bank.
Website: https://www.eastwestbank.com/
Routing Number: 322070381
Swift Code: EWBKUS66XXX
Telephone Number: (626) 768-6000
Founded: 1973 (50 years ago)
Bank's Rating:
East West Bank, a bank based in California, was founded to serve the Chinese-American community living in California. It has now expanded to over 130 locations in the United States and China.
It has acquired Trust Bank (2004) which had assets valued at $235. Desert Community Bank (2007) and United Commercial Bank (2009) too. It has also merged with another Chinese-American bank in 2006 when it acquired Standard Bank.
What is outstanding about East West bank is that it offers services not just in local land based branches but also online. This is made possible by the existence of a modest finely operational website. It allows customers to transact fully online. Here is a guide on how you can operate your account online.
How to login
To login to your online account, you will need to have your username and password. These are the details you used to create the online account. Visit the Bank's website through this link and look out for the 'LOGIN' panel.

Or

Enter the username and password. Click 'login'. If the details are correct, you will be logged in directly. If not, you can always recover the details.
How to reset password
If the login details you entered, the bank will notify you that the details do not match. The next option would be resetting the password.
Step 1
Click on the link at the bottom of the dialog page noted as 'I can't access my account'.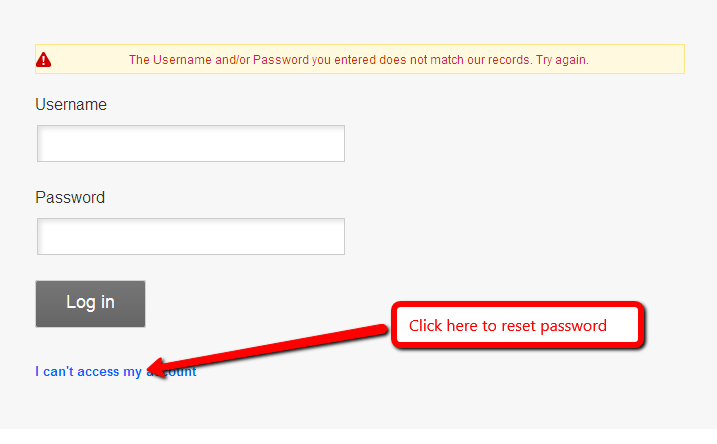 You can also reset the password from the homepage. Look out for the 'Forgot username/password' option. Click the link for recovery options.

Step 2
Enter the phone number linked to your account and the username. Your new password will be sent to the number you entered.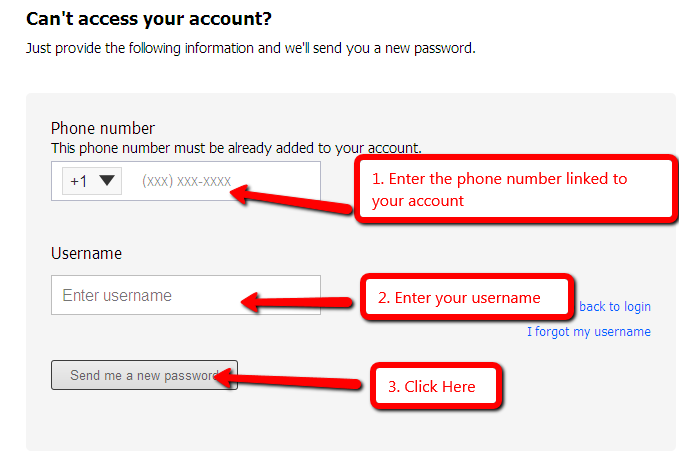 Step 3
If you can neither remember your password nor your username, worry not. You can always get the username sent to you. Enter your email, linked to account, and click 'send'.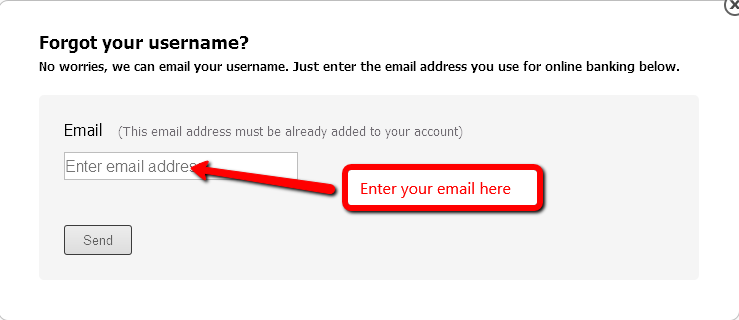 How to Enroll
Step 1
On the homepage, there is the 'sign up now' option. Click there to enroll.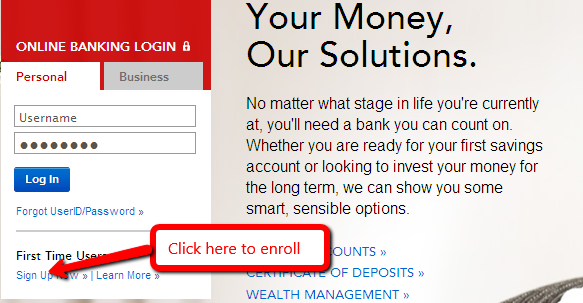 Step 2
A new page will appear. Click the 'begin' option to start your enrollment. A new page appears. Read the electronic consent. Scroll to the bottom of the page. Click 'Accept'.

Step 3
Fill in all the relevant information. Ensure you are filling in the correct information. Click 'complete sign up'.
What will be in your online account?
With an online account, you will be in control of your account from any location. You can even access your bank from different devices. This way you can do the following:
Get e-statements
Pay your bills
Transfer money to other bank accounts
View your transaction history
Manage your account profile
The long queues will be long forgotten. Enjoy the easiest way to bank.
---