Credit One Bank, national association, a chartered bank, provides credit cards. The company is headquartered in Las Vegas, Nevada. It operates as a subsidiary of Sherman Financial Group LLC.
Website: https://www.creditonebank.com/
Routing Number: 122402133
Swift Code: See Details
Telephone Number: +1 877-825-3242
Founded: 1984 (39 years ago)
Bank's Rating:
If you have an account with Credit One Bank, you can register for internet banking services so that can have access to your bank account 24/7. You can say goodbye to frequent trips to the bank or ATMs. You can pay your bills and check your account balance from your computer, tablet, ipad or mobile phone. Here are the steps for logging into your online account, resetting your password and registering for the internet banking services.
How to login
The bank's website has an easy to use interface that makes it easy for customers to login and manage their bank accounts. And with a mobile friendly website, customers can use their mobile phones to access their accounts. You will also need your login details. Here are the steps you need follow to login:
Step 1-Open https://www.creditonebank.com/ in your web browser
Step 2-Key in your username and password and click "sign in"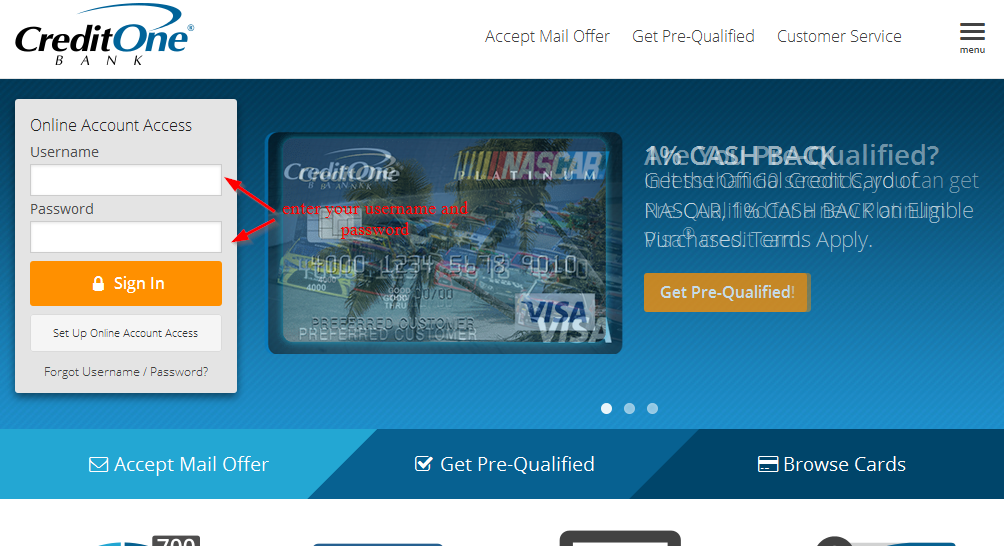 If the username and password are correct, you will be directed to your account
How to reset your password
Credit One Bank has also made it easy for customers to reset their passwords so that they can regain access to their accounts in the event that they can remember their previous passwords. Here are the steps you can follow to reset your password:
Step 1-Click "forgot username/password" as show in the below image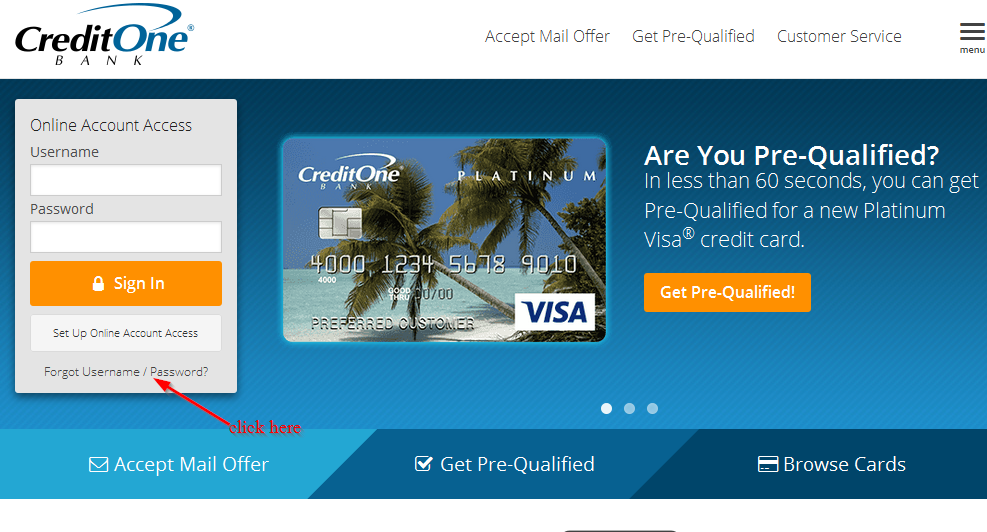 Step 2-Enter your SSN number, credit card number, signature panel code, choose your password and then verify the password.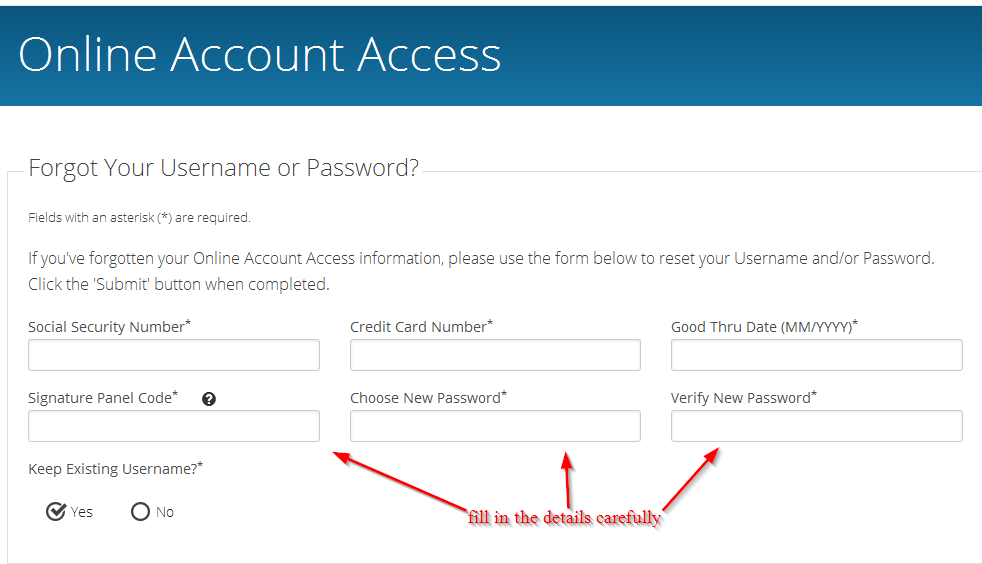 How to enroll
Enrolling for the internet banking services being offered by the bank is easy as long as you have an account with the bank. As mentioned earlier on, there are many advantages of enrolling. Here are the steps you need to follow to enroll:
Step 1-Click "set up online account access"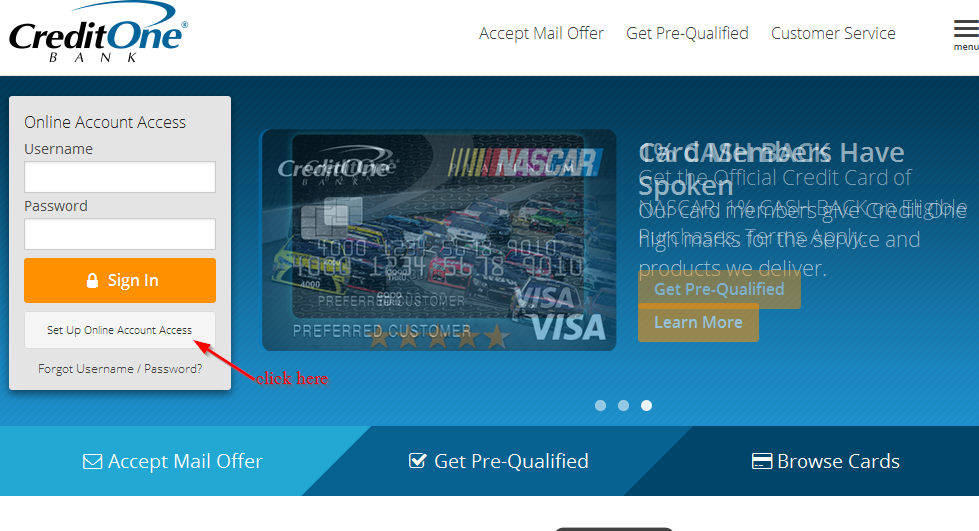 Step 2– Enter your name, email, social security number, credit card number, expiration, signature, choose your username, choose your password and verify your password and click "continue"
Manage your Credit One Bank online account
Here are the advantages of having an online account with the Credit One Bank:
Pay your bills anytime
Check your account balance anytime
Access your estatements
View your transaction history
Credit One Bank Review
Credit One Bank is a United States bank that specializes in credit cards. The bank has business offices in Las, Vegas, and is held by Credit One Financial. As on 2016, the bank had over 6 million credit card holders in the U.S.
Credit One was founded in 1984 and started operation as a full-service bank known as First National Bank of Marin in San Rafael, California. The bank continued to provide a wide range of products until the year 1995 when it started focusing on secure credit cards.
In this post, we will be reviewing Credit One Bank. When you check credit one bank review, you will realize for every one positive review, there are more than 160 bad reviews.
However, when you look closer, you will realize that some of the bad reviews and complaint were not really the fault of the bank. Although Credit One Bank has many issues to complain about, at the end of the day you will realize that its Platinum Credit Card comes with many benefits to people who are looking to build or re-establish credit.
In this post, we will be looking at the pros and cons of credit one bank.
Why use Credit One Bank's Visa Card?
Many people sign up for the banks Visa Card to build their credit history or to rebuild a mishandled or bad credit history.
Payment history is usually reported to the major credit card bureaus. Making payments on time will show good standing that will help you to improve your credit.
Benefits
We will be taking a closer look at all the benefits that you stand to get when you choose Credit One Bank. The bank has embraced technology and now customers can access their services even when they are on the go. Other benefits include:
High approval rate-Regardless of fair or poor credit history, you are likely to get approved. This is very important considering the fact that many banks will reject your application
Credit line increases-The bank offers free online month tracking of your credit score
Build good credit-Customers take advantage of updated to major credit bureaus every month
No over-the-limit fee-Customers are not charged any fees even when they go over their credit.
Pre-approval process-The bank allows its customers to be pre-approved without affecting their credit score
Auto travel/rental insurance coverage-When renting a car, you don't need to get auto insurance since the card covers auto rental collision. It also offers travel accident insurance
User-friendly website-The bank's website has a user-friendly website, which makes it easy to access it and bank form anywhere
Online and mobile banking-This is a pretty convenient way of managing your finances. You can pull up your mini statement or even transaction history when you are on the go.
Downsides
Credit One Bank has its own downsides that you must consider before choosing it. This will help you to make an informed decision whether you will choose the bank or not:
Predatory lender-Customers have complained to harassing call, especially when they are late with payment
Poor customer support-Outsourced customer support center, calls are disconnected without warning, rude staff and multiple call transfers
Suspended account-Customers have also complained that their accounts get suspended without notification or warning
$75 annual fee for the first year-There have been many complaints about the $75 fee. Although this fee has been stated on the bank's website, many people forget it or don't read the fine print and were very much surprised after receiving the first statement
Unavailable payment-Customers have also complained that when they make payments, it is not available immediately
Payment fee-When you pay a monthly fee with another credit card, you will have to pay a fee of $9.95
High interest rate-The bank's high APR was one of the main points of discontent with many users.
Conclusion
Ultimately, as the future or current Credit One Platinum card holder, you need to decide whether the benefits if maintaining or opening a Credit One credit card outweigh the many issues that current and past customers are experiencing.
Depending on one's need to rebuild or establish credit, you may find that the bank's Platinum Credit Card meets your needs.
If you have good credit standing and or you have other options, you may decide that the downsides outweigh the benefits